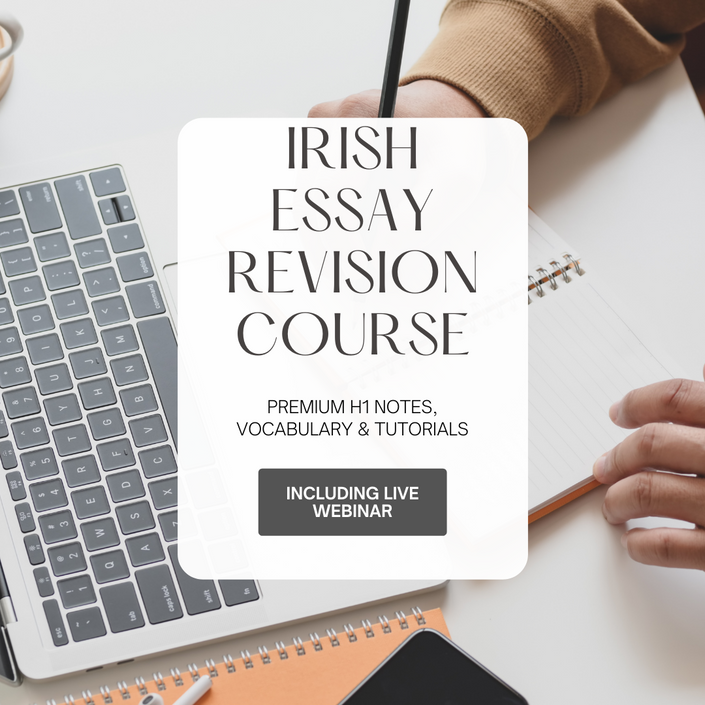 Irish Essay Revision Course 2021
What is covered?
15 'H1 Level' essay notes and video tutorials focused on the most important and contemporary topics on the syllabus. All of the notes are full of useful phrases and topic specific vocabulary.
Please view the "Course Curriculum" above to see what topics are covered.
To begin the course, there will be a live webinar on Saturday May 8th at 12pm. Immediately after the live event you will get access to the notes (in PDF format) of all the essay topics listed and can play the accompanying video tutorial on your device (phone/tablet/computer etc.)
The opening live webinar on Saturday May 8th from 12pm-2pm will deal with all of the most common questions that students have, in addition to covering some of the key exam preparation points e.g. marking scheme, how to handle the díospóireacht/óráid etc.
Once registered, students can submit questions to the course tutor via email prior to, during and immediately after the live session.

Frequently Asked Questions
When does access to the course begin and end?
Access to this course begins on Saturday May 8th 2021. This includes access to the live webinar on May 8th, and subsequent access to all of the accompanying video tutorials and essay notes.
How long do I have access to the course?
You will have access to this course until June 20th 2021.
What if I am unhappy with the course?
Just contact us within 24 hours by phone on (087) 344 7312, tell us where we've gone wrong with the course, and we can discuss a full refund if that's how you still wish to proceed.
Your Instructor